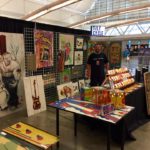 The greatest annual pinball and gaming event IN THE UNIVERSE!
This year I've teamed up with Double Danger Pinball Accessories and Brian Holderman Art to bring you THE AISLE OF AWESOME. Features include aThis Flippin Podcast Chill Lounge. Come by for free giveaways, a beverage and get on the podcast!
It will take place July 26th – 29th 2018 at the David L. Lawrence Convention Center.