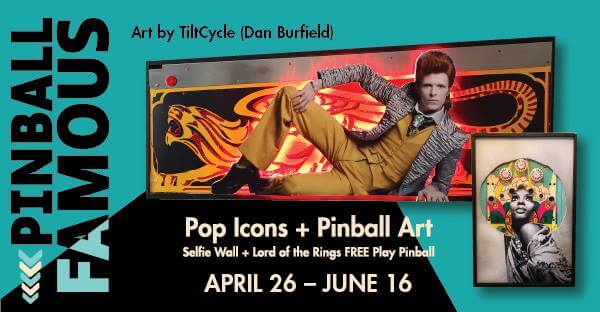 The Artsmiths of Pittsburgh Arts and Cultural Center is excited to announce "PINBALL FAMOUS" – an art exhibit by Dan Burfield of Tiltcycle.
OPENING NIGHT:
Friday, April 26 from 6 to 8 p.m.
Meet the artist, have a cocktail, take a picture with a custom selfie wall, and play Lord of the Rings pinball machine.
The Exhibit runs from April 26 through June16.
GALLERY HOURS:
Tuesday – Saturday: 11 a.m. to 5 p.m.
Sunday: 12 to 4 p.m.
Monday: Closed
ADMISSION: Free
*********************
Inspired by the work of Andy Warhol, Burfield combines his passion for upcycling pinball and arcade machines with his love for pop icons and repurposed commercial art.
The exhibit features an extraordinary sense of creativity, ingenuity and artistic intelligence fused into a breathtaking collection of layered, 3D collages.
The Pinball Famous series showcases pieces with:
Twiggy
Diana Ross
The Rolling Stones
Dolly Parton
Ziggy Stardust
Audrey Hepburn
Lady Gaga
Cher
Lost Boys
Valley of the Dolls
Pam Grier
Isabella Rossellini
BVLGARI
Tiffany & Co.
The selfie wall and free play Lord of the Rings pinball machine will remain for the entire run of the show.